Posted on: April 25, 2022
Your concrete garage floor should use the best materials to make it shine. After all, we use our garages every day to store our cars, house tools and store essential home equipment. Many even opt to convert their garages into home gyms, game rooms or guest rooms. With so many uses, you'll want a stylish alternative to concrete flooring that's also resistant to everyday wear and tear.
There are plenty of options to upgrade your flooring, from durable materials to epoxy garage floor coverings to keep it intact. We'll go over a few common flooring options and help you style your garage for a unique and durable space that looks great for years to come.
Garage Flooring Options
Most homeowners are accustomed to the standard concrete slab garage floors, though you're sure to find many options when you want a stylish and practical alternative.
We'll discuss the pros and cons of the various common types of garage flooring here. From rolls to rubber, carpet and tile materials, enjoy several attractive and functional alternatives to concrete garage flooring.
Tile
One of the most common options for garage flooring materials is tile. You'll appreciate the various styles and colors of garage tile to make your space look great.
The benefits of tile flooring include:
DIY-friendly: Tiles make some of the best flooring to install over concrete since it's so simple to do yourself with peel and stick options or tiles that snap together. Create exciting patterns and designs when you install tile in your garage.
Durable: Tile is typically made of a tough and moisture-resistant material like polypropylene or PVC. Garage tiles can withstand liquids, dirt, traction and your vehicle's weight, making them highly durable for your space. And while they're built to last, they're easy to replace if they happen to be damaged. Simply change out any cracked or stained squares without needing to replace the entire surface!
Easy to maintain: All you'll need to care for your garage tile is a quick hose or sweep that won't cause any damage to keep your garage floor looking great.
Stylish options: You'll find tiles in fun colors and textures. Vented tiles, for instance, allow moisture to follow through to the concrete floor, and solid options can help with traction.
The only downside of tiles is their higher price tag depending on the quality and type you choose. Tile that snaps together tends to be more pricey than the peel and stick options. But while they may be one of the more expensive options for your garage space, they're one of the most versatile.

Rubber
If you're one of the many people who use their garage as a home gym, you'll want protective and functional flooring. Rubber is a great option to protect your concrete subfloor so you can move weights around and park your car on it too.
Advantages of rubber flooring include:
Convenient installation: Enjoy an easy installation process with rubber flooring. It can come in tile or roll form to cover your entire garage space or just a section.
Easy to clean: Conveniently sweep or mop rubber with a gentle cleanser to make it look brand new.
Long-lasting: While it can face complications when coming in contact with oil, rubber flooring is exceptionally durable and can last over ten years. Most manufacturers will even provide a warranty to guard against excessive wear and tear in your garage gym.
Anti-microbial: Rubber is naturally anti-microbial and helps keep mold, mildew and fungi out of your garage space. This quality is especially crucial to protect garage floors in Florida from hot and humid temperatures.
Shock absorbent: The shock absorbent material of rubber helps it sustain heavy weights and comes in various thicknesses to protect your subfloor.
Sound dampening: You'll appreciate rubber flooring in your garage gym with its sound dampening capabilities. Rubber will absorb noises from your weights and cut down on how far sounds travel while you're working with power tools or listening to music.
The main drawbacks to rubber flooring are its reaction to oil and the weight of the material. Unless you purchase vulcanized rubber, your floors risk breaking down if they mix with the oil from your car. Additionally, rubber is dense and heavy, so you'll want extra help to install it. Some might weigh 100 pounds or more, though rubber tile can make a more manageable installation process.
Rolls
Garage rolls make a great alternative to concrete flooring. Typically made of flexible vinyl, they come large and rolled up like a carpet. With this type of flooring, you can enjoy:
Easy installation: Garage rolls are one of the most accessible options to install. Some manufacturers even offer custom or pre-cut rolls so you can order them to fit your floor correctly.
Variety of color options: Like tiles, rolls come in various colors and patterns to match your aesthetic. For instance, you might opt for a traditional look or a bold texture and style, such as a diamond pattern.
Water-resistant: Garage rolls will stand up to your typical garage activities and can be easily hosed or swept without damaging the surface.
Affordable: Riolls are one of the most inexpensive garage flooring ideas. You won't need to worry about installation costs, and typically, the less customization you do, the less you'll pay.
One of the drawbacks to rolls is that you won't be able to customize certain sections like you can with tiles. It's also not like tile, where you can replace specific parts if it breaks or stains. Also, while installation is fast, you'll have to wait a week or two for your roll to settle to avoid lumping and curling.
Carpet
If your garage is an extension of your home living space, carpet makes a great flooring option. Perfect for a playroom, movie room or additional bedroom, you'll provide warmth and coziness when you install carpet tiles in your recreational garage space.
Advantages of carpet tiles include:
Durable: Carpet tiles hold up well in most garages, especially when you apply a protective sealant to guard them against stains and spills.
Easy to care for: Like regular carpet, carpet tiles are easy to maintain with regular vacuuming. Save a shampoo and deep clean for every few years depending on the traction your carpet gets, and conveniently switch out any stained or damaged carpet tile without replacing the entire floor.
Various styles: Choose from multiple carpet colors, patterns and custom looks. You might even decorate your carpet in your favorite team colors or mascot for a garage game room or man cave.
Comfort: Though not as plush as indoor carpeting, garage carpet tiles still offer softness and hominess to any space.
The notable limitations of carpet tiles are that you can't park a car on top of them and they're sensitive to water. Carpet won't fare well in damp environments and could mold or mildew if exposed to too much moisture. Additionally, you'll want a professional to install your tiles for the best look. Some options are easier to do on your own, while others require more expertise and add to the overall cost of your flooring.
Additional Options for Covering Garage Floors
There are other garage floor covering options that shouldn't go unmentioned as you narrow your list to create a functional and comfortable garage space. Stains, epoxy coatings and paint make an excellent alternative garage floor covering when you're tired of the same concrete garage floor.
Alternative Garage Floor FAQ
A few common questions and our answers are listed below to help you decide on an alternative option to cover your garage floor.
Should I Coat My Garage Floor?
If you're looking for a simple way to cover your garage floor without installing new flooring, epoxy and paint make excellent alternatives. You'll appreciate numerous benefits of epoxying your garage floor, such as:
Extend the lifespan of your floor: Garage flooring is susceptible to moisture, dust and the weight of vehicles. A coating boosts your floorings' resistance to water, cracks and weight damage and even chemicals and thermal shock. Epoxy coating greatly benefits your garage flooring by prolonging its lifespan.
Transform your space: There are numerous aesthetic benefits of garage floor coatings. A quality floor coating can add texture and color to transform your garage into a gorgeous space for recreation.
Facilitates floor cleanliness: Epoxy floor coatings create a nonporous surface that's easier to sweep and mop. Coating your garage floor will save time from maintaining it while ensuring your floors look their best.
What Are the Best Floor Coatings?
Paint and epoxy make the best floor coatings for any garage. While epoxy is often regarded as a form of paint since it's applied with paint rollers and brushes, the materials between the two coatings are actually quite different due to their chemicals and performances.
A floor epoxy hardens by a chemical reaction between resin and a hardener to create a long-lasting and attractive coating in your garage. Concrete floor paints tend to be latex or oil-based, formulated with a non-slip finish that's great for high traffic areas. Applying concrete floor paint gives a garage stained with oil or rust a completely new look.
Both types of coatings will help protect surfaces from salts, solvents or any other damage, making them excellent additional options for covering your garage floors.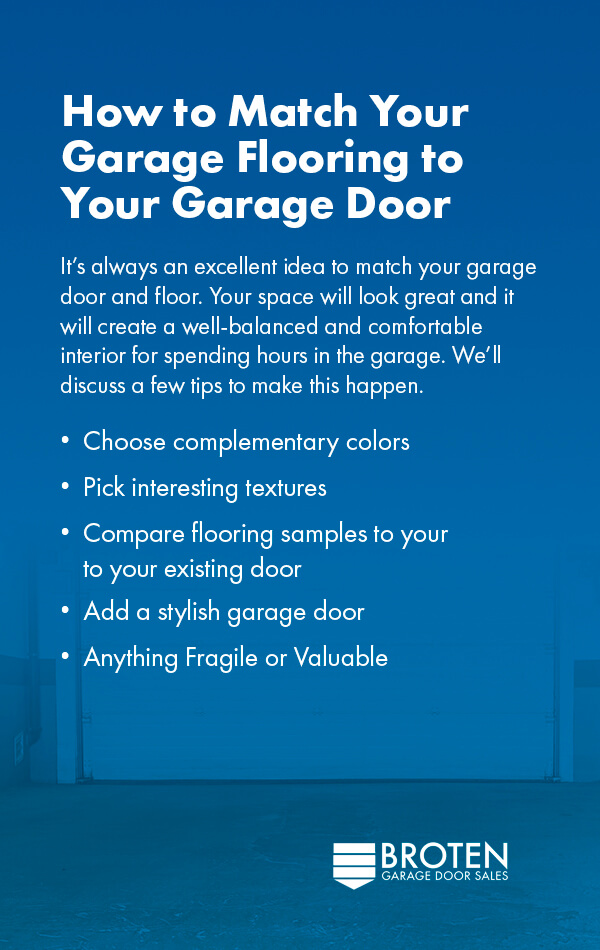 How to Match Your Garage Flooring to Your Garage Door
It's always an excellent idea to match your garage door and floor. Your space will look great and it will create a well-balanced and comfortable interior for spending hours in the garage. We'll discuss a few tips to make this happen.
Choose complementary colors: If you have a light-colored garage door, opt for a darker shade for your flooring to complement it. If you want a subtle touch, install floor tiles with the same colors as your door's undertones to make both stand out. And if you have a neutral-colored door and prefer a uniform look, opt for a beige or gray flooring.
Pick interesting textures: Tile, carpet and rolls come in various textures and patterns, making it easy to style and show off in your garage. If your garage door uses wood to create a rustic feel, go along with the theme by choosing a tile or roll in a similar texture or pattern.
Compare flooring samples to your existing door: When in doubt, collect samples of your prospective flooring choices and compare them to your existing garage door. This will help you determine the right style and color to match the two and you can also see how the floor color changes with your type of lighting before you install it.
Add a stylish garage door: If you want to go an extra step, installing a new garage door to match your flooring can transform your garage into a modern and comfortable space for recreation. You can even choose the ideal insulation options to beat the Florida heat and protect your flooring, such as insulated door frames or windows.
What Style Should You Choose for Your Florida Home?
Our top flooring picks for Florida homes come down to the most affordable, moisture-resistant and attractive options.
1. Epoxy
Probably the most feasible option, epoxy flooring is easy to apply and durable against scorching Florida temperatures. It will also help your concrete fare well against humidity with its nonporous materials.
2. Rubber
Since it's resistant to moisture and easy to install, rubber makes a great option instead of a concrete slab for your garage floor. Choose from mats to tiles with interlocking patterns that offer extra strength and stability to your garage. Rubber can withstand any climatic conditions, making it ideal for Florida garages and its natural anti-microbial properties help it fight mold and mildew associated with humid climates. You'll appreciate a healthier garage for family activities when you install rubber flooring.
3. Stone
Due to its temperature control properties, we had to include stone on our list of the best Florida garage flooring options. While sandstone, flagstone or graphite can come at a higher price tag than the other flooring materials we've discussed, it's ideal for Florida homes since it stays cool to the touch in even the warmest temperatures. It's also tough and resilient and comes in several unique colors and patterns to make your space pop.
Upgrade Your Garage Space With Broten
There are many ways to upgrade your garage from a drab space into a stylish and comfy retreat, from flooring materials to coatings and coverings. And with many providing the ideal features to beat the Florida heat, you're sure to appreciate the time you spend updating your flooring. While you're making the necessary changes, don't forget to check the condition of your garage door and opener.
For over 60 years, Florida residents have relied on Broten Garage Door Sales for five-star customer service and expert garage door services. We'll replace your garage door to best match your new flooring and even provide garage door openers and repairs to ensure you have access to your space when you need it. Appreciate a one-year warranty on our services so you can rest assured that your garage looks great for years to come.
For a high-quality garage update, contact us today!
Explore Garage Door Styles
Categories:
Garage Doors, Tips