Our Selection of Hurricane Rated Garage Doors in Florida
Our below selection of garage doors meet Florida's requirements to be considered hurricane rated, which means these doors are the high-impact garage doors that are necessary to help protect your home in high wind storms like hurricanes
Interested in a Hurricane Rated Garage Door? Request a free estimate today!
Hurricane Rated Garage Doors for Florida Homes
For many homes, garage doors are a convenient necessity. Whether your garage houses your car or boxes of holiday decorations, a sturdy garage door keeps everything in your garage safe from the elements and intruders.
However, if you live in high-wind or hurricane-prone regions such as South Florida, a standard garage door can quickly become a liability. In high winds, unreinforced garage doors can be torn away, threatening the integrity of your home and leading to a host of more severe damages.
Fortunately, hurricane rated garage doors are an efficient and effective solution. Specially designed to withstand severe storms, hurricane rated garage doors can keep your house safe, even during a hurricane. In this guide, we will explain the details about reinforced garage doors, along with stylish and functional options for your home.
Reinforced Garage Doors
Garage doors are highly susceptible to damage from high winds. Unless you have installed a tested, hurricane rated garage door, you risk storm winds buckling it or tearing it away from your house. That's where reinforced impact-rated garage doors can help — installing an appropriate garage door is crucial to maintaining the integrity of your home.
1. What Is a Reinforced Impact-Rated Garage Door?
Hurricane rated garage doors, also known as impact-resistant, wind-resistant, or reinforced impact-rated garage doors, are specifically designed to withstand hurricanes and other high wind storms. Some models can endure winds up to 200 miles per hour, which is higher than the wind speeds you'd likely experience in a Category 5 hurricane.
Storm-ready reinforced garage doors are designed specifically with high-winds in mind. Impact-resistant garage doors are built with a minimum of one layer of steel. The number and thickness of the steel layers can help improve the maximum wind speed the door can withstand. In addition to steel, many wind-resistant garage doors also have additional layers of aluminum, wood paneling, and insulation.
Shop Hurricane-Rated Doors
2. Reinforced Garage Door vs. Unreinforced Garage Doors
The primary difference between unreinforced and reinforced garage doors is their purpose — unreinforced garage doors are designed to function under normal circumstances. In contrast, reinforced garage doors are built to withstand the intense pressure and high winds of a hurricane.
Here are some of the specific elements that differentiate reinforced garage doors from standard models:
Extra layers: Hurricane rated garage doors are built with a minimum of one layer of steel, and will often include additional layers of steel, aluminum, insulation, and wood paneling to make them more durable and wind-resistant.
Heavy-gauge track: In addition to heavy-duty layers, hurricane rated garage doors also have heavier-gauge track than standard garage doors. Heavy-gauge tracks keep doors in their place and prevent fierce winds from lifting, twisting, or removing the door.
Just because a door is hurricane rated doesn't mean it isn't stylish and appealing. Reinforced garage doors still have the same beautiful facades of standard doors — to an observer, a reinforced garage door looks like any other garage door. However, reinforced doors pair beauty with durability, and they are strong enough to resist even the highest hurricane winds.
The Importance of High Impact Garage Doors
Installing a high impact garage door does more than protect your garage. Due to their large size, garage doors are more susceptible to damage from high winds than other types of exterior entries or openings. During a storm, high winds can twist and tear an unreinforced garage door away from a building, making the inside of your garage and its contents susceptible to storm damage.
A blown-away garage door doesn't just damage your garage, though. During a hurricane, an open garage door acts as a breach point and can send winds tearing through the rest of your home. This can produce a buildup of uncontrolled internal pressure, which can blow out a home's windows, roof, and supporting walls.
Additionally, hurricane winds can send objects such as patio furniture or trees crashing into the side of your home, causing weak doors to buckle under the force. Even if the structure of a building is not damaged, the resulting opening can let in water, which can cause water damage.
Water damage comes with its own list of costly repairs — just one inch of stormwater can lead to roughly $25,000 in repair costs.
A hurricane rated garage door protects your home from long-term damage and can help keep your entire house safe during a storm, including your garage.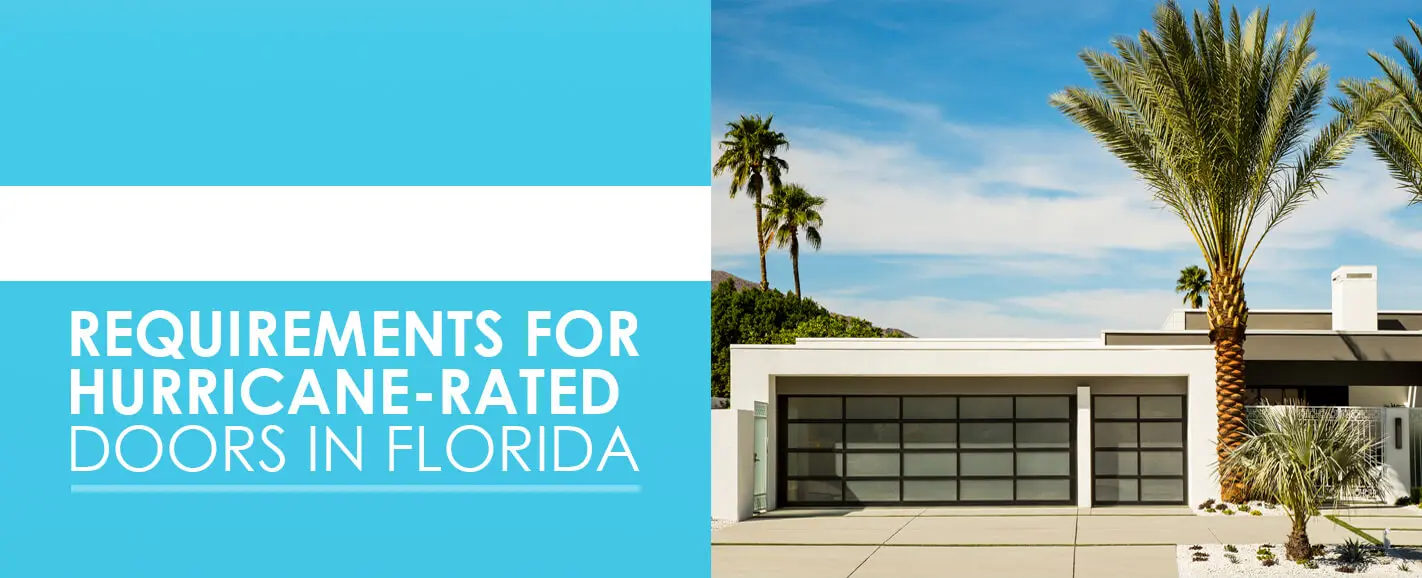 Requirements for Hurricane Rated Garage Doors in Florida
Florida experiences many heavy storms every year — hurricane season is from around June 1st to November 30th, with the most storms occurring from August to October. On average, one to two storms make landfall in the eastern regions of the United States per year, and roughly 40 percent of those hit Florida.
Because of Florida's high exposure to heavy winds, the Florida Building Commission regularly updates specific requirements for residential buildings. Every geographic region is different — your local building code authority can give you the most current information, and often, professional garage door technicians will perform an on-site inspection to see if your existing doors are up to code.
Here are a few steps to help you determine the requirements for your garage door to be hurricane rated:
Determine your area's minimum wind speed

The first step is to figure out the minimum wind speed your door must meet or exceed to be safe. Also, take note of whether or not wind-borne debris is a threat in your area — if so, it could affect your requirements.

Determine your exposure

In Florida, structures are given an exposure rating — Exposure B, Exposure C, or Exposure D. The type of exposure will affect the requirements of your garage door:

Exposure B: defined as urban and suburban areas, wooded areas, or other terrains with numerous closely spaced obstructions.
Exposure C: defined as open terrain with scattered obstructions including flat open ground, grasslands. All of Miami-Dade and Broward Counties is Exposure C, unless it meets the Exposure D definition.
Exposure D: defined as being within 600 ft. of the ocean or another large body of water measuring at least 5,000 feet across.

Determine your home's structural type

One-story and two-story homes will have different requirements — consider the structural type of your home when determining your requirements.
For the most accurate results, talk to both your local building code authority and a garage door professional to find a door that meets your area's wind resistance requirements.

More Information on Our Reinforced Impact-Rated Garage Doors
At Broten Garage Door Sales, we offer a wide range of reinforced garage doors so you can find a door to fit any architectural style. Whether you prefer the look of glass, steel, or wood, we have a quality garage door option that suits your home or business.
1. Impact Glass Garage Door
If you are looking for cutting-edge design and contemporary style, glass garage doors go perfectly with a clean and urban aesthetic. Glass garage doors transform the look of your home. Still, many homeowners assume they are easily broken and unsuitable for high winds. Our Impact Glass Garage Doors combine modern design with hurricane-ready strength.
Reinforced glass garage doors allow you to enjoy natural light during the day. Additionally, our different glass options allow you to determine the degree of light and privacy that is right for your home.
Our impact glass garage doors are constructed with frosted or clear impact-rated glass, aluminum frames, and stainless steel rollers and hinges. The frames come in a variety of finishes, including bronze, white, and natural wood grain.
2. Canyon Ridge® 5-Layer
If you love the look of wood but could do without the upkeep, the Canyon Ridge® 5-Layer is the perfect compromise.
Built from low-maintenance, sturdy steel and composite, these garage doors provide the strength and energy-efficient benefits of insulated steel along with the beauty and realism of stained wood. The Canyon Ridge® Series comes with a broad selection of finish colors, decorative hardware, overlays, and designs, so you can find a style to suit your home and your budget.
The Canyon Ridge® Limited Edition Series is one of the most popular and highly rated garage doors offered by top garage door manufacturer, Clopay®. This door matches well with many different home styles, too, including Colonial, Craftsman, Traditional, and Bungalow.
3. Canyon Ridge® Modern Series
If you like the classic look of wood but prefer a more contemporary design, the Canyon Ridge® Modern Series provides the best of both worlds.
The Canyon Ridge® Modern Series doors bring customizable and contemporary style to your home. They work well with both modern and mid-century designs, and because these doors are steel-based, they can withstand even the harshest storm winds.
Canyon Ridge® Modern Series doors meet Florida's specifications for hurricane rated garage doors and come with added insulation to cut down on energy costs. Whatever color, design, hardware, and window types you prefer, you can customize your Canyon Ridge® garage door to suit your home's aesthetic and style.
4. Canyon Ridge® 4-Layer
Simultaneously attractive and economical, the Canyon Ridge® 4-Layer is a tough combination of steel, insulation, and composite.
A wide variety of overlay designs and materials provide a broad range of different looks and effects, and each piece is molded from actual wood pieces to imitate the natural grain and texture of wood accurately.
In addition to their reinforced designs, impact windows also add great aesthetics and bring natural light and charm to your garage door. They are high-impact rated and help ensure the protection of your home in hurricane-force winds, giving the best combination of beauty and function.
5. Custom Series
If you can't find the right design to meet your needs, choose the Custom Series, and let our team work with you to create a garage door designed specifically for your home and style.
Whether you have a professional illustration or just ideas sketched down on a notepad, we can construct almost any door based on your specifications. Using a wide variety of gorgeous, on-demand woods, such as mahogany or cypress, our in-house teams of craftsmen will make your dream door a reality.
Our insulated and multi-layer steel construction will make your custom door strong enough to withstand hurricane-force winds, making the Signature Series doors beautiful and durable options for your home.
6. Eden Coast
Another customizable option, our Eden Coast garage doors offer a contemporary spin on the classic garage door design and look.
With Eden Coast, your garage will look more streamlined and modern than ever before. Designed to replicate the look of real wood, Eden Coast garage doors will bring a minimalist aesthetic to your home, boosting your curb appeal and protecting you against strong winds.
Personalize your door to match your home's unique architectural style, and choose from a range of color, insulation, and window options for maximum customization.
7. Coachman® Collection
Giving your home class, elegance and style doesn't require a massive renovation — the Coachman®Collection effortlessly brings a sophisticated edge to your home, all while protecting it from hurricane winds.
The Coachman® Collection provides the elegant look of a carriage house door, but don't let its classic look fool you — behind a gorgeous exterior is tough composite and durable steel technology, helping these doors withstand even the harshest storms.
With a variety of designs, including French Country, Tudor, Victorian, Shaker, and Traditional, there is a Coachman® door that will suit the style of any home. Offset with wrought-iron hardware and accents, the Coachman® Collection features doors that are simultaneously sturdy and charming.
8. Gallery® Collection
Combining carriage-house style with affordability, the Gallery® Collection garage doors perfectly balance aesthetic appeal with durability. This garage door matches well with several home styles in South Florida, including bungalow, craftsman, farmhouse, ranch, colonial, and traditional. The Gallery® Collection offers homeowners design options to personalize the garage door to the home's look.
The Gallery® Collection is available in different colors and panel designs, and it provides a vintage-inspired garage door with a contemporary flair. If you prefer the look of wood, the collection comes with a range of faux wood, also known as wood-look, finishes for additional elegance, giving you the durability of steel and the look and beauty of wood. Choose from 12 different color options for maximum personalization.
9. Modern Steel™
The Modern Steel™ Collection is the perfect choice for mid-century modern, Mediterranean, and contemporary-style homes.
Match the streamlined and minimalist look of your architecture with a Modern Steel™ garage door. Fusing urban aesthetics with hurricane-grade technology, these garage doors instantly update your curb appeal and increase your protection against adverse weather.
The Modern Steel™ Collection comes with a rust-prevention system to keep your door performing as it should, even when faced with years of hurricane winds and rain.
10. Premium Series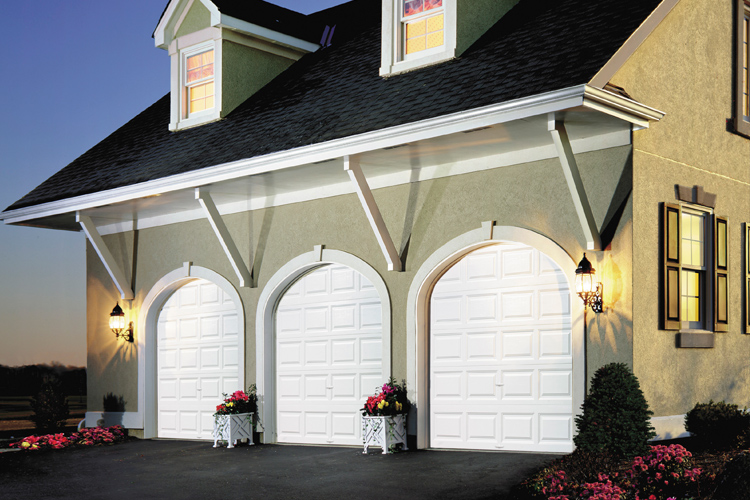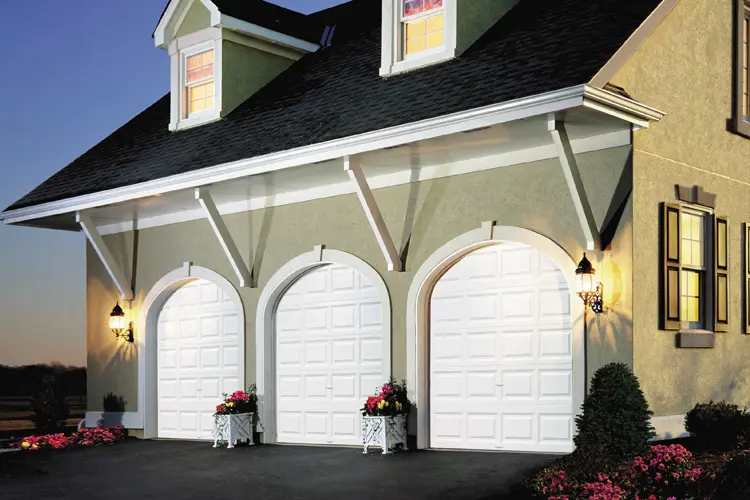 For environmentally-conscious homeowners, the Premium Series features energy-saving and hurricane-grade garage doors that combine style with functionality.
The Premium Series is designed to simultaneously boost your home's appearance, guard against storms, and increase your energy efficiency. With quiet operation and a lovely appearance, these garage doors feature a wide range of finishes and decorative window options so you can personalize them to suit your home and preferences.
Featuring three-layer, insulated steel construction and rust-prevention technology, the Premium Series garage doors are built to last, even through Florida's harsh storms.
11. Value Series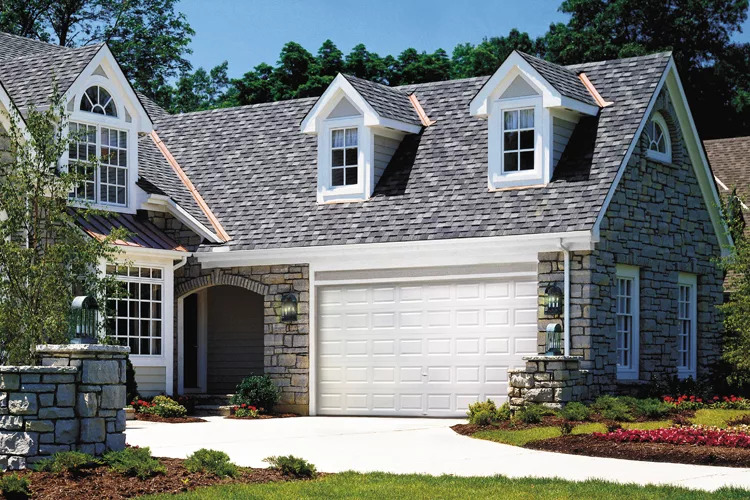 Durable, affordable, and low-maintenance, the Value Series was designed to give homeowners long-lasting performance and a beautiful aesthetic.
With woodgrain-embossed finishes, the Value Series doors have subtle and soft detailing that sets them apart from standard garage doors.
Featuring rust-prevention technology and impact windows, the Value Series garage doors provide a virtually maintenance-free solution to your storm-ready garage door needs.
Find a Hurricane Rated Garage Door at Broten Garage Door Sales
For more than 60 years, Broten Garage Door Sales has served South Florida as the premier stop for residential garage doors. We are family-owned and operated, and our team is dedicated to providing the highest quality customer service possible.
At Broten Garage Door Sales, our doors come with a one-year labor warranty, and our employees perform all garage door installations and repairs — we never use subcontractors. With 24/7 service and industry-leading knowledge and technology, we perform over 20,000 service calls every year and have earned a 98.5 percent excellence rating in customer satisfaction.
Don't wait until the next storm to upgrade your garage — explore our range of hurricane rated garage doors and request a free estimate today.
Schedule an Estimate
Are you looking for a new garage door in Broward, Palm Beach, or Martin counties? Schedule a free, no-obligation, in-home estimate below:
Broten Garage Door Sales
Serving Broward, Palm Beach, Martin, and Surrounding Counties
All Work Is Performed by Employees (no Subcontractors)
All Major Credit Cards Accepted
Calls Answered By A Live Operator 24/7
Work is Guaranteed
Many Styles Available
Contact Us Today:
24-Hour Emergency Service Available
Business hours
Live Operator: 24/7
Monday – Friday: 7:30 AM – 5:00 PM
Saturday: 7:30 AM – 2:30 PM
Sundays: CLOSED
Posted on: July 11, 2018
South Florida residents are no strangers to frequent hurricanes. During a hurricane, garage doors serve a critical role in protecting your home against high winds. The loss of a garage door during a storm can lead to an uncontrolled buildup of internal pressure in your home, leading to roof and supporting wall blowouts. In 1992, one […]