Posted on: November 16, 2021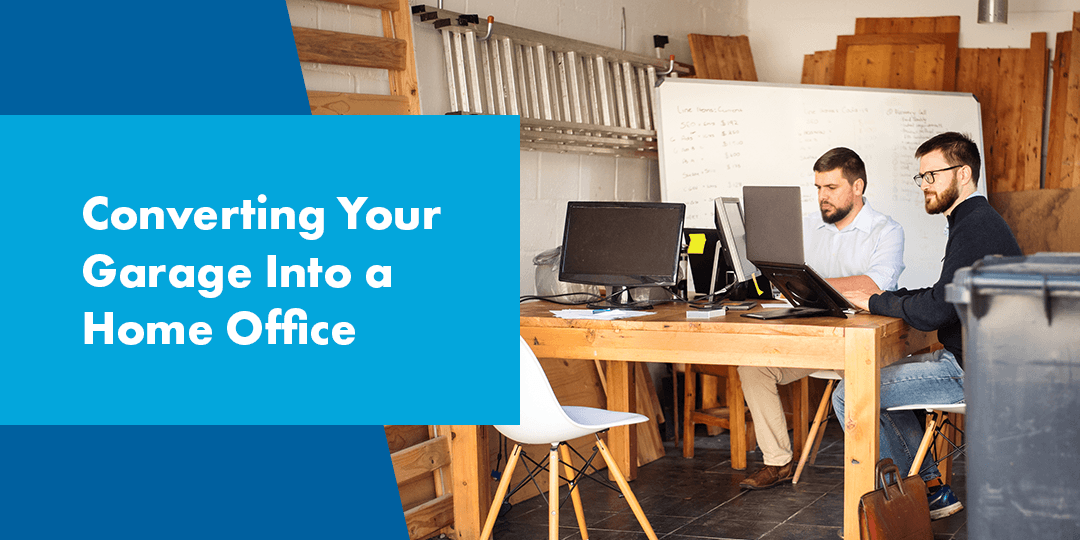 If you took a look into your neighbor's garage, you'd likely see a car or two and a few piles of boxes, a collection of tools and a bike. While most people continue to use their garages for parking and storage, you can use your garage for numerous other purposes, including a home office. As more people continue working from home, it's become more pertinent than ever to find a roomy area away from the kids and pets to complete work.
Do you want to turn your garage into a remote workspace? With the help of Broten Garage Door Sales, you can add some style to your garage to make the perfect at-home area. Continue reading for ideas!
How COVID-19 Has Impacted the Workplace
In the age of COVID-19, working from home is the new normal. At the beginning of the pandemic, offices, schools and daycares closed throughout the country. Almost everyone was trying to adjust to working in a new setting while also trying to manage their kids and other responsibilities.
Although some employers have now required their employees to return to the office completely or at least part-time, many employees continue to stay at home to work. For numerous employees, working from home is a much better alternative. But why is that the case?
Key Benefits of Working From Home
While working from home certainly isn't for everyone, it does come with its own unique benefits, especially for specific types of workers. If you're a remote employee, you likely already know the specific advantages of being at home. These are a few examples:
Better Work-Life Balance: There's usually some flexibility with remote work, which means you have time to run an errand or do light cleaning throughout the day. These breaks help you disconnect from work, clearing your head while tackling your to-do list so you're more productive all around.
Less Commuting/Commuting Stress: Being stuck in traffic can cause both anxiety and stress, which takes a toll on your mental health. As a remote worker, you don't have to drive 30 minutes to an office or rush to catch a bus or train early in the morning.
No Location Restrictions: The beauty of remote work is that you can work from anywhere, so long as you have the right equipment. Therefore, you can likely apply to jobs at companies from around the world, meaning your opportunities are virtually endless.
Financial Savings: If you're not commuting to and from work every day, you're saving money on gas and car maintenance. Additionally, you can save money on work attire and eating out, as you can often wear whatever you like while you work and you can eat your groceries home.
Environmental Benefits: With fewer people commuting and traveling each day, there are fewer carbon dioxide emissions. Plus, companies don't have to operate large office buildings, which also impacts the planet.
Office Personalization: Some companies have certain guidelines on what employees can display in their offices regarding decorations. However, if you're working from home, you can decorate and display things how you want.
Increased Productivity: In an office, there's usually at least a small group of people working, so you'll hear others typing, talking, walking and printing. These noises can distract you, keeping you from accomplishing your tasks. That's especially bothersome when you need a quiet environment for something like a client call. At home, little noises and interruptions won't exist, so you can stay more focused.
Healthier Lifestyle: When working from home, you have the ability to take a short break to take a walk to get fresh air and make your own healthy meals. That's not always possible at work, especially if your office doesn't have a safe place to walk or lacks a kitchen area to make lunch. As a result, you can take better charge of your health.
Explore Garage Door Styles

Benefits of Using Your Garage as a Home Office
Because working from home is more prevalent than ever, finding a permanent spot to conduct work at home is crucial. By having the correct workspace at home, you'll likely find yourself being more productive, efficient and happy at your job. Fortunately, it's relatively easy to create a workspace you love.
As indoor living space is often a luxury, you may need to think outside of the box when it comes to creating your home office area. Can a garage be used as an office? Yes! Here are the perks of creating a garage home office conversion:
You don't need to sacrifice space: No matter the size of your home, you can have a completely separate area to conduct your work. That's especially helpful for smaller homes with limited living space. Rather than sacrificing a second bedroom for your office, you can create a small office in your garage, making the most of your square footage.
You can enjoy fewer distractions: If you're in your own area in the garage, you can block out noise. Plus, you'll be away from everyone and everything, so you won't get distracted by eyeing the crumbs on the counter that need to be cleaned, the TV show you want to watch or the couch that's calling your name.
You'll have a dedicated workspace: There'll always be workspace available when you need it. Therefore, you won't have to quiet the house down or move toys out of your way to get to your work area. This space could also double as a homework desk in the evening for the kids.
You can add value to your home: If you turn that dark, bare space into a beautifully remodeled office with new floors and furniture, you're adding value to your home. If you were to ever sell your home, you could increase your selling price to reflect the current demand for home office space.
You can turn it into something else later: If you don't need the office space in the future, the space could still work as a bedroom, playroom or gym. Creating an additional living space in your home doesn't mean you have to use it for a singular purpose forever. The office can just as easily serve a different purpose when the time comes. That's something that appeals to buyers, as well.
You can personalize it: If your desk at work lacked originality, now's your time to jazz it up. Since your office is your very own space, you can feel free to decorate it however you like, even when that means straying from the rest of your home's design! If you've always wanted a pink couch but your current aesthetic doesn't allow for it, your garage office is a wonderful place for it.
You can DIY most of it: Aside from updating the garage door, you can likely DIY your garage office plans. A new coat of paint paired with office lighting and furniture is easy to incorporate into most garages. Depending on your garage's condition, you could create a garage home office in as little as one weekend.
How to Convert Your Garage Into a Home Office
How do you convert your garage into an office? It's simple. After you create a plan for what you'd like to include in your half garage, half office space, you can take a few steps to make your dreams come to life. Here are five steps to help guide you through the process of building an office in your garage:
Clean it out: Begin by decluttering your garage. If you use it as a storage space, you'll want to go through your items, consolidating them into a few boxes that can fit elsewhere, like in your attic, basement or a closet in your home. If you're using half of the garage to park your car, you should ensure your office section isn't so large that it gets in the way of that parking space.
Figure out what you need for the conversion: Do you need to add more insulation? Is your garage door ready for a replacement? Should you add shelving? Do you need planning permission to turn your garage into an office? Take stock of your garage, determining exactly what has to happen for your garage to turn into a functional office space. This way, you can tick everything off your checklist.
Look into heating and cooling: Some garages aren't heated and cooled when built, so you'll want to look into solutions so you don't sweat in the summer or freeze in the winter. A portable heater and fans will suffice in the meantime, but eventually, you'll want to invest in a permanent heating, ventilation and air conditioning (HVAC) system for your garage.
Look at lighting options: The lighting installed in garages isn't the best for working, s you'll want to look at other lighting options. If your garage has a window, use that to your advantage! Check to see whether you'll need more ceiling fixtures installed or if a few well-placed decorative lamps will do the trick. Proper lighting is crucial for your eyesight, so take your time when evaluating the lighting to ensure you create the best setup possible.
Check your internet connection: Even if your garage is already attached to your home, the WiFi connection probably won't reach you when you're working inside of it. If it does, it may be very spotty. Some internet companies offer boosters that can stretch the connection from the WiFi so it'll reach further. Alternatively, look into adding a connection directly to the garage. This way, you won't experience delays or errors as you send emails and take calls.
Even if you have a small garage, you can still make the most of your space. Consider organizing hacks like tall filing cabinets to keep your important files. A standing desk can utilize vertical space, as you can put storage underneath it. Additionally, try adding shelves so you have a place to display pictures and other decorative items without compromising your desk space. These tricks will create a functional, attractive workspace no matter your garage's size.
Overall, converting a garage to a home office can be as easy as you want it to be. If you're on a budget, consider starting small, adding items or making renovations as time goes on. So long as you have a comfortable desk and chair and a strong internet connection, you can start work in your garage almost immediately. Over time, you'll be able to create a perfect working area for your job and preferences.
Choose Broten Garage Door Sales for Quality Garage Doors
At Broten, we offer a wide variety of garage doors for all garages — specifically insulated models that work perfectly for garage offices. In addition to our standard selection, we also offer the choice to design your own door, so if you don't see one you like in our product selection, you can design one to perfectly match your home. No matter your preferences, we have a stunning, functional garage door for you.
In addition, we offer maintenance for garage doors. At Broten, we can perform regular garage door maintenance to make sure your garage door is working as it should and won't have a sudden breakdown in the future. By inspecting all moving parts and looking for wear and tear, we can locate any issues and address them quickly so your garage door works as expected. Schedule your maintenance visit with us today.
Of course, we also come out to repair your garage door if it breaks down for any reason. Don't let a broken garage door keep you from using your garage — whether it's for parking your car or working from home. A broken garage door can be a safety hazard, so it's important to address it immediately. Be sure to schedule service on our website when you need us to come take a look.
The experts at Broten are confident we have a garage door for you to complete your new office space, providing form and function.
With our maintenance and repair services, we'll make sure you don't have any issues.
Call us at (954) 946-5555, fill out the contact form or request an estimate. Broten looks forward to serving you!
Categories:
Garage Doors, Home Improvements, Tips