Broten Garage Door Sales offers a selection of garage door accessories, including the garage door hinge. Our resilient and attractive collection comes from Clopay®, America's largest residential garage door manufacturer.
Broten partners with Clopay because they have a five-star standard of excellence with eye-catching curb appeal. Decorative garage door strap hinges let you exchange a standard metal hinge on your door for an elegant showpiece that elevates your home's design.
What Is a Strap Hinge?
A strap hinge opens and closes your garage door while still looking simple and elegant. A strap hinge has a long narrow design that balances durability and style. The hinge has two triangular pieces with a rotating axis that connects it in the middle. The hinge can open and close once attached to a garage door because of the axis in the middle.
Our garage door strap hinges comprise a long, narrow construction that emulates functionality and style. Screw one side of the strap into the door and the other onto an adjacent stationary surface for a secure attachment and aesthetic appeal. Strap hinges are available in numerous sizes, styles, and finishes, enabling you to choose the ones that best fit your exterior.
Steel strap hinges like the collection from Clopay offer extra strength durability for large doors and can reliably withstand the weather and high winds.
Clopay Strap Hinge Selection
Broten offers many striking heavy-duty strap hinges that balance functionality with beauty. These durable steel hinges come in a variety of finishes.
Whatever hinge style you require, Broten can help you find a solution to fit your door and home aesthetics.
Spade Strap Hinge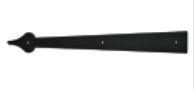 The first hinge is the spade strap hinge. Inspired by the classic designs of the past and the famous playing card shape, the spade strap hinge is a tasteful addition to any garage.
Spear Strap Hinge
The spear strap hinge design features a sleek spearhead tip and is a great way to elevate the look of any garage door.
Colonial Strap Hinge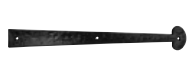 Clopay's final option has a colonial design to evoke times past with simple elegance. All three hinges have a deep black finish that can complement most door colors.
Improve Your Home With High-Quality Garage Door Strap Hinges Today
Clopay garage door hardware strap hinges can improve your door's style and function with several style options. Broten has served the South Florida community with the highest quality solutions for over two decades. We have a track record as one of the world's top 20 Clopay Master Authorized Garage Door dealers.
We've had a legacy of tradition and trust for over 60 years as a garage door solutions provider. We provide quality and reliability with 24/7 support and a one-year labor warranty.
Ready to explore more about your hinge options? Reach out to Broten to connect with a member of our service team today!
Posted on: September 11, 2017
A garage door includes springs that make it simple and easy to raise and lower it. Your garage door must be perfectly balanced so it can stay open when it needs to and shut safely and gently when the situation calls for it. Balance is essential to your garage door's proper and safe functionality. But […]